Scott's Honda Inventory
***as of 2006, ONLY bikes ready for sale are those listed with prices!***
If you see something you're seriously interested in, feel free to contact me at ascotvt@yahoo.com.
I live near Eau Claire, Wisconsin. Located off of I-94, just 1 hour east of the Twin Cities (Minnesota). Click HERE for a map showing a 3hr vicinity of my location.
This is a current showing of all salvageable bikes in my posession. Most have clear titles, and some can be had relatively easily. I also have NUMEROUS parts for many other bikes NOT shown. I will list them once I've had a chance to sort through them all. --please be patient.
1984 Ascot VT500

I purchased this bike to take it to the next level of restoration. It is a very clean but refurbished VT. The tank is about as perfect as can be, but the body parts have been repainted, very well I might add, by a professional body shop. The left sidecover must have blown off because it has a replacement that not only has cracks (can be repaired) but the paint finish isn't as mirror-like as the rest of the bike. It's decent, and only up close would you really notice it. The bike has 17,000 miles on it. I just adjusted the valves and re-synced the carbs, and adjusted the idle mixture for best operation. The fork seals are brand new and ready to go. I've personally logged about 200 miles on this, taking it on jaunts and to work and back. I was able to verify that it's economy is right around 60mpg for casual riding. It rides super nice, and handles just as great as my other VT500's. The gauge faces are nice and crisp, no fading present, the seat has been recovered at one point and has no flaws yet. The exhaust does have a few things worth mentioning... there are some minor scrapes to the rear cylinder's headpipe, the lower exhaust heat shield and the muffler itself. They don't look too bad in contrast to the rest of the bike, but the next person could locate nicer ones on ebay, or just keep these in good condition. Someone drilled holes in the rear of the muffler. This did improve the "rumble" from the engine, but not terribly though. A person could have those weld-filled back in and painted black. Otherwise, the exhaust system is in decent shape for how hard it's getting to find them not all dented up or rusted out. Here are all the pictures I took of it. Email with questions or requests for pictures.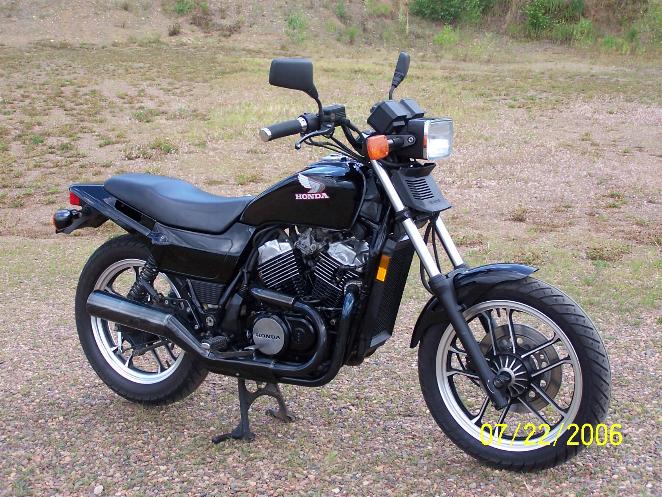 Contact me at ascotvt@yahoo.com